Other events in the field of emerging substances
This page will be regularly updated with information and useful links to other relevant conferences and workshops in the field of emerging environmental pollutants.
2023
---
7-8 February 2023, Gothenburg, Sweden
Workshop on Achieving Zero Pollution of Persistent ad Mobile Substances

ZeroPM presents the first workshop on Achieving Zero Pollution of Persistent and Mobile Substances - Prevention through Chemical Alternatives, Policy Action and Market Transition. The workshop will profile three topics: chemical alternatives assessment, policy actions and strategies to catalyse a market transition. Presentations and breakout sessions will be held by leading experts in these fields from diverse sectors, along with ZeroPM consortium members. We invite industry representatives, investors, water suppliers, researchers, NGO's, policy makers and enforcers to join ZeroPM in its mission towards a toxic free environment.
---
30 April - 4 May 2023, Dublin, Ireland (hybrid event)
SETAC Europe 33rd Annual meeting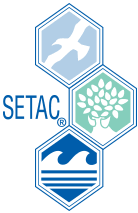 The Scientific Committee for the SETAC Europe 33rd Annual Meeting is committed to putting together a not-to-be-missed conference with an exciting scientific programme addressing the overarching theme of "Data-driven environmental decision-making" for the protection and restoration of the environment. To support the transition to renewable economies and sustainable business practices, and to facilitate the translation of scientific knowledge into data-driven policy making and regulation, SETAC Europe 2023 will bring together scientists from various disciplines in academia, business/industry and government to share, debate, discuss, disseminate and facilitate the use and re-use of their most recent scientific knowledge to support adaptive and responsive environmental management and protection.
The breadth of topics that SETAC Europe 2023 will address:
The environmental fate and effects of emerging and existing pollutants and their mixtures, at cellular, organism, community, population and ecosystem levels;
The development of solutions to reduce, replace and regulate the use of known pollutants;
Strategies and methods to mitigate and remediate contaminated soil, air and water;
Innovations to foster more sustainable practices in agriculture, waste treatment, resource management and more; and
Life cycle thinking approaches including supply chain data collection, impact assessment modelling and footprinting methodologies.
Abstract submission: 30 November 2022
---
11 - 15 September 2023, Prague, Czech Republic
AquaConSoil 2023
AquaConSoil is a bi-yearly event where scientists, policy- and decision makers and industry representatives gather to learn, share and engage on sustainable use and management of soil, sediment and water resources. Since 1985 we welcome approximately 800 visitors from all over and outside Europe. The 2023 ACS conference will address 5 topics:
Topic 1 - Water and soil resource recovery in the context of Circular Economy and European Green Deal
Topic 2 - Soil-water-sediment system contribution to climate change adaptation and mitigation
Topic 3 - Sustainable remediation, emerging contaminants and prevention towards zero pollution
Topic 4 - Water and Soil in the digital world
Topic 5 - Tools and systems Thinking Approaches to manage complexity in sustainable soil-water-sediment systems
The deadline for abstract submission is 31 January 2023
More information at https://www.aquaconsoil.com/aquaconsoil-2023/
---