Workshop on monitoring strategies for biocides
Workshop on environmental monitoring of biocides in Europe - from prioritisation to measurements
Berlin (DE), 5-6 November 2012
The European Biocidal Product Directive 98/8/EC (BPD) on placing biocidal products on the market was adopted in 1998 and subsequently transposed into national law by the EU member states. It will be replaced by EU regulation No 528/2012 which will be applied from September 1, 2013. Further to the implementation of the BPD a number of substances has already been withdrawn from the market, or will be withdrawn soon as a consequence of non-inclusion decisions. Additionally, the use of certain biocidal substances will be restricted by risk mitigation schemes.
Environmental monitoring can help in assessing whether the implementation of the BPD has positive effects on the environmental quality (Are lower concentrations detected in recent years?), whether there is a risk (Are the measured environmental concentrations below the derived PNEC?), and whether the exposure estimations applied for risk assessment are realistic (Are the modelling results consistent with the monitoring data?).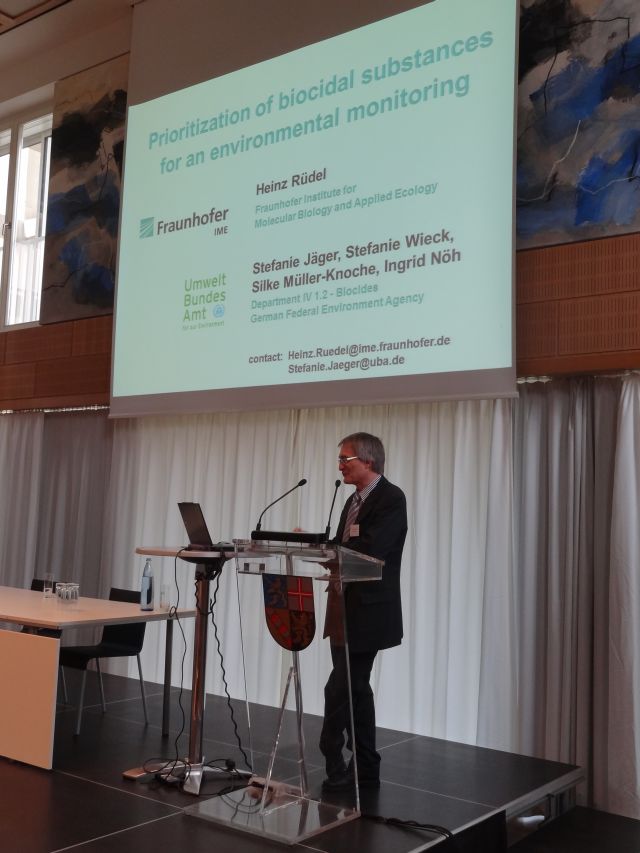 This international workshop was held jointly by the German Federal Environment Agency (Umweltbundesamt) and the NORMAN network. About 65 experts from 11 member states representing research institutes, government agencies, industry and consulting organisations participated in the workshop. The workshop programme included three break-out sessions on: Prioritisation of biocides for monitoring; Practical aspects of sampling and analysis; Databases and exchange of monitoring data.
The workshop was intended as a kick-off to stimulate joint activities between European countries on biocide monitoring, including prioritisation, sampling and analytical methods development and establishment of a common database and data exchange facilities (e.g., organised by NORMAN).
 
Workshop Report (abstracts, conclusions from break-out groups, workshop summary)
---
WORKSHOP PROGRAM AND PRESENTATIONS
MONDAY, November 5, 2012
Welcome Address: Petra Greiner - Umweltbundesamt, Dessau-Rosslau (DE)
Introduction
Session I - General aspects of (biocide) monitoring
Session II – biocide monitoring in surface waters
Session III – Biocide monitoring in soils, urban environments and biota
Session IV – Introduction to break-out groups
Parallel break-out groups
Reports from break-out groups in the plenary and discussion
Conclusions and closure of the workshop
Poster
Map - from hotel Amano to Informal meeting - 4th Nov
Map - from hotel Amano to Workshop venue
Schedule - Public transport from Amano to Workshop venue
Map - from hotel Amano to Workshop dinner - 5th Nov
Date:
Monday, 5 November 2012

to

Tuesday, 6 November 2012